Talui Lewto Phanat – the seed sowing festival of Talui village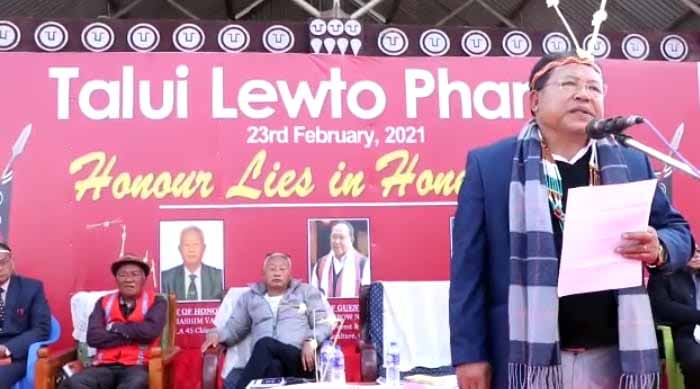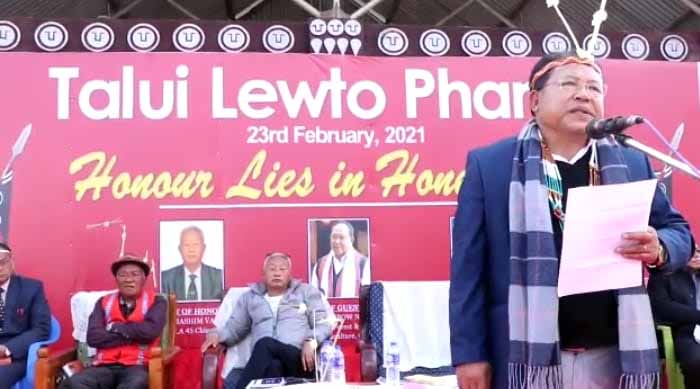 Ukhrul, Feb. 23, 2021: Talui Lewto Phanat – the seed sowing festival of Talui village was celebrated today. The celebration was attended by Minister Forest and Environment, Manipur, Awangbow Newmai, MLA of 45-Chingai Assembly Constituency Khashim Vashum, Former ADC Member of Ukhrul, Kapangpam Zimik and Principal Chief Conservator of Forests and HoFF, Government of Manipur, K. Angami as Chief guest, guest of honour, president and special guest respectively.
Celebrated under the theme "Honour Lies In Honest Toil" Headman of Talui village, S. Akhai while invoking the blessing of Creator declared for the commencement of seed sowing.
Chief guest of the celebration, Awangbow Newmai in his speech give his utmost respect to all the leaders from the village dead or alive, who have been shouldering great responsibility and sacrificed their precious life.
Awangbow Newmai promised to extend all possible help for the construction and maintainance of M. Raikhan Ecological Park at Raiphei Kachang, Talui. He lauded the initiative of the village in protecting and conserving the forest and wild animals. "It is so pleasant to know that Talui village has prohibits plantation of poppy and ganja. Let us take initiative and spread awareness to neighbouring villages, the importance of protecting forest and wild life animals" he added.
He stated that under TRIFED, the forest department is also helping the SHG of the villages for the sustenance of their livelihood. With the blessing being invoked by the Headman of the village, may this year be a blessing to everyone. Wishing you all a bountiful harvest. Let this year be a posperous one for all of us.
He reminded that "We can have peace only when we respect each other. For a lasting peace, the talk is going on between the leaders of Government of India and Naga leaders. We have to accept the hard truth only then there can be a solution."
Khashim Vashum stated that this is his fourth time visit to Talui. He informed the gathering that the Manipur State Cabinet has approved for construction of Talui CHC. However due to shortage of funds, the project is yet to take off. He also informed that Rs.10.26 crore has been already earmarked for construction of Police Station at Talui. He assured that the works will commence soon. For construction of approach road from Talui PS to Keinung Tang, a total of Rs. 1. 20 crore has been sanctioned under works department (PWD). Under NDB a sum.of Rs. 1.72 crore has been earmarked for drinking water pipe connection purpose. He also contributed Rs.2 Lakhs for construction of the building of Talui Reisang Youth Club.
Khashim Vashum appeal the villagers to respect the Village Authority and exist in unity and wish a prosperous year.
Kapangpam Zimik stated tha Talui villagers efforts to preserve forest has gone unnoticed by concerned authority. However, the fruit is being reap richly by the villagers. Perennial source of water throughout the year and green forest covers the whole village. A litlle effort and support from the concerned authority would greatly help the conservation activities taken up by the villagers.
K. Angami stated "I am grateful to God for this wonderful opportunity. It is a pleasant sight to see the village covered with green forest. We need to development and educate our children at the same time we need to protect, conserve and preserve our forest. Whatever possible help, the forest department will extend to the villagers in conserving and preserving the forest."
Later after the programme, Awangbow Newmai and Khashim Vashum laid the foundation stone of Mazazang Raikhan Ecological Park at Raiphei Kachang and also launch the Green Zingtun Mission in commemorstion of ZTKL Platinum Jubilee to be held on 2022. M. Raikhan ws the founder of Zingtun Tangkhul Katamnao Long (ZTKL). In his memory, a plot of land mesurong 2 square kilometre has been alloted to ZTKL by Talui for construction of the said park. The dignitaries planted sapling of trees at the launching site.
Talui Lewto Phanat was attended by former ADCs of Ukhrul and various leaders from Zingtun area. The traditional trumpet by Awo M. Paisho and "Kharing Pheichak" by Talui Reisang Youth Club addd more colour to the celebration.