44 Assam Rifles honoured COVID Warriors on Sammaan Diwas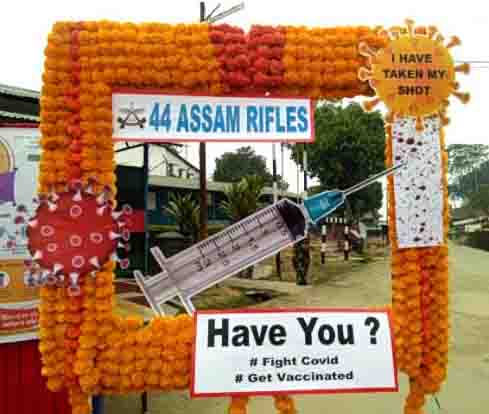 TAMENGLONG, Feb. 25: 44 Assam Rifles under the aegis of 22 Sector of Assam Rifles IGAR (E) on Thursday administered first dose of COVID-19 vaccine at  their camp complex Tamenglong after given due honour to COVID Warrior and media persons of Tamenglong district.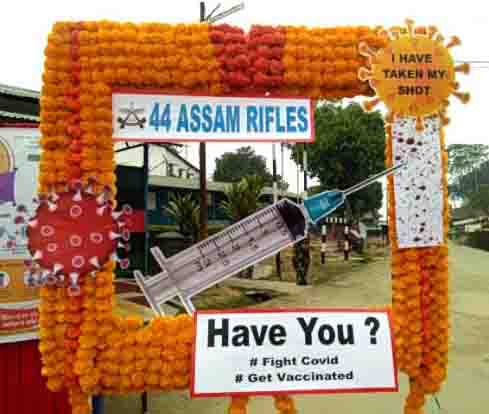 During the launching of first dose for 44 Assam Rifles Tamenglong battalion displayed beautifully and colourful bangra dance, Khukhri dance, handi crafts and band displayed milodious music to express their gratitude and honour to medical staffs and media persons for their relentlessly working for the humanity.
44 Assam Rifles Commandant Col Pradeep Kumar felicitated the COVID-19 warriors stating that the  sacrifices they have made every day for the safety and welfare of humanity is priceless and deserves our lifelong gratitude.
He said, although vaccination is voluntary and is being provided by govt free of cost,  yet it is advisable to receive the complete schedule of COVID-19 vaccine for protecting one- self this disease and also to limit the spread of this disease to other close contacts including family members, friends,  relatives and co-workers.
The COVID vaccination drive is a proud moment for us Indians and is a great milestone in India's scientific research capability adding that the Indian scientists and innovators have come forward to serve the cause for humanity.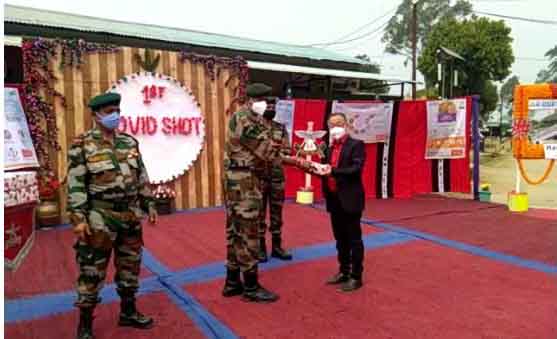 While urging the local public to come forward voluntarily to get vaccinated, he said that this development is an acceleration on the road to an healthier and COVID-19 free society.
The Commandant also thanked WHO Consultant  Dr Pinky Sarangthem, Chief Medical Officer Tamenglong Dr Chambo Gonmei & his medical team from the Office of the District Health Society, Tamenglong.