Wildlife week 2020 concludes in Tamenglong
TAMENGLONG, Oct. 6: Celebration of wildlife week 2020 concluded here at Tamenglong with the distribution of certificates of appreciation to the prize winners of slogans writing competition, wildlife awareness pamphlets, and distribution of cash prizes.
The valedictory programme was held on Tuesday at official Bungalow of forest IB Tamenglong district headquarters with the District Forest Officer Tamenglong Kh. Hitler Singh as chief guest.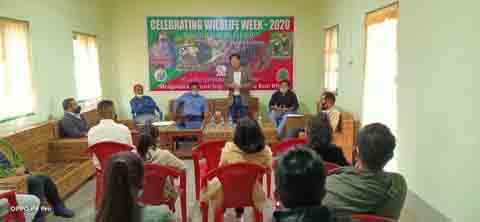 Honorary Wildlife Warden Nehemiah Panmei, Range forest officers Kh. Khogen Singh, A. Promeshwor Singh, Teachers of School, members of Rainforest Club Tamenglong were also present in the simple valedictory function.
In his chief guest speech, Kh. Hitler Singh expressed his sincere gratitude to all the participants in the week long activities in connection with wild life week 2020.
"Let us protect our valuable and endangered wildlife, their habitat. Let us stop illegal trade in wildlife products, such meat, dry meat, skin of animals, scale of wildlife such as pangolin etc.
Tamenglong is the feeding and Roosting site of long distance migratory birds Amur falcons. we should protect Amur falcons in our district. Our district is now famous not only for Orange, but also beautiful landscape, valuable cultural heritage but also as one of the famous Amur falcons capital.
At least two Amur falcons namely Chiulon and Irang are now migrating from Russia and East China and they are expected to be here by mid-October. They are right now near Beijing in China", DFO Tamenglong Kh Hitler said.
He also mentioned that Tamenglong is also home of four five Hornbill. Let us also work together to make sure that they are protected, he added.
Cash awards and appreciation certificates were given out through chief guest Kh. Hitler Singh and function president Honorary Wildlife Warden Nehemiah Panmei.