Manipur CM inaugurated a newly set up Covid ICU)/Accident Trauma Centre at JNIMS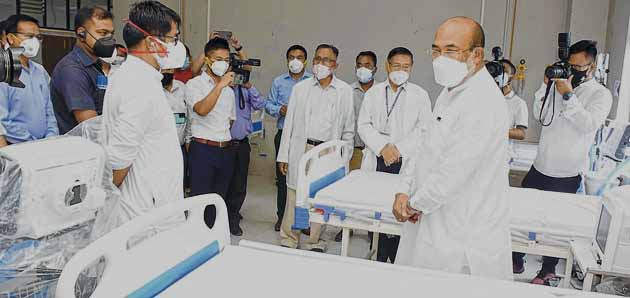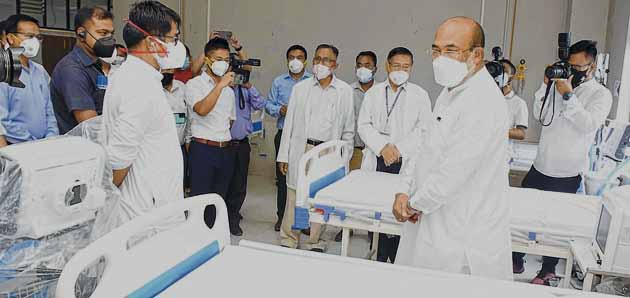 Manipur Chief Minister N Biren Singh said that saving peoples' lives is the priority while inaugurating a newly set up Covid Intensive Care Unit (ICU)/Accident Trauma Centre at Jawaharlal Nehru Institute of Medical Sciences (JNIMS). He further informed that the Government would take stringent action against those hospitals or staff if they are found neglecting patients intentionally thereby putting lives at risk.
The ICU which inaugurated today has a capacity of 100 beds equipped with advanced medical facilities which would be very useful for treatment of COVID-19 positive patients who need intensive care. Speaking at the occasion, N Biren said that the newly inaugurated ICU block would be of great relief to JNIMS and the people of the State as supply of oxygen to COVID-19 infected patients has been a major concern.
Manipur now have adequate facilities for accommodating COVID-19 patients with its five to six dedicated Covid hospitals, more than 2000 beds at different Covid Care Centres and other facilities set up in every Assembly Constituency CM Said.
He urged doctors, nurses and other staff of JNIMS to work in proper coordination and understanding with one another and asked them to come to the Government and authority concerned if they have any grievances. He assured that the Government would always be ready to sort out their grievances.
He also appealed to the public to be responsible and adhere to the SOPs issued by the Government from time to time as support and cooperation from each and every individual is a must in fighting the pandemic successfully.