Eight session of the 13th NLA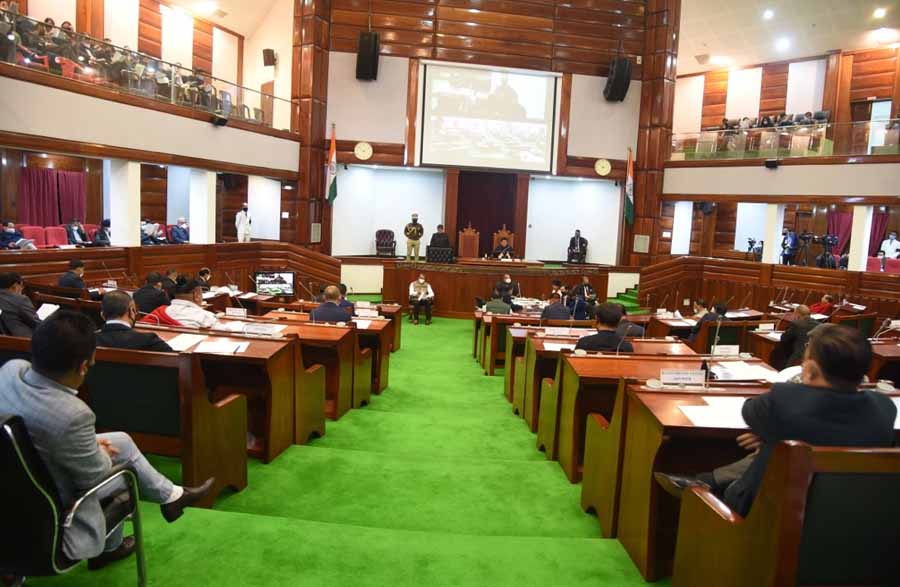 Kohima, 5th Aug. 2021, DIPR: Replying to starred questions raised by MLA, Y M Yollow, on the second day of the Eighth session of the 13th NLA on 5th august 2021, Minister for PHED, Jacob Zhimomi informed that the Wakching water supply project was sanctioned during the year 2014-15 with an estimated cost of Rs. 383.01 lakh. He added that the project is expected to be completed by March 2022.
Minister for Health & Family Welfare, S Pangnyu Phom informed that the Government has sanctioned Rs. 246.9 crore for COVID-19 related expenses since 2019-20, where an amount of Rs. 127.33 crore was received by Department of Health & Family Welfare and the remaining Rs. 199.57 crore was for expenditure by Home department/NSDMA. This was in reply the questions raised by MLA, KuzholuzoNienu.
Deputy Chief Minister, Y Patton replying to MLA, Yitachu's starred question stated that an amount of Rs. 304.19 lakh has been released so far for the work pertaining to Weziho-Molen road construction with 40% of the overall works completed.
Replying to MLA, Y M Yollow, Minister for Higher Education stated that the Department will be in a position to start the first academic session at New Model College, Wakching only after the State Government sanctions approval for creation of the proposed minimum required post for appointment.
Answering to the question on the status of Kohima by-pass package-2 of Meriema 500 meters tunnel raised by MLA, KuzholuzoNienu, Deputy Chief Minister and minister in-charge of R&B, Y Patton stated that 55(fifty five) meters tunnel excavation works from western portal side has been completed so far.
On Akash Bridge to Kanjang via Lephory road construction, Patton informed the house that a fund amounting to Rs. 1018.42 lakh has been released and the expected date of completion is 31/03/2022. This was in reply to a starred question raised by Yitachu, MLA.
Replying to question raised by Y.M. Yollow, MLA, Minister in-charge of School Education said that the Government Primary School at Ladigarh was established in 1972 and the school is presently located on the outskirts of Ladigarh village.
Dr. ChotisuhSazo, MLA raised questions on Covid-19 vaccination to which Minister of Health & Family Welfare, S Pangnyu Phom, said that vaccination is not mandatory in Nagaland and is voluntary. It is disseminated to the public and target beneficiaries, as part of mobilization/ outreach and sensitization activities.
Unstarred Questions Raised
While replying to the unstarred question raised by KuzholuzoNienu, MLA on 5th August 2021, Deputy Chief Minister and Minister in-charge of R&B, Y Patton, informed that there are 5,167 work charge labourers in the State, (PWD (NH) – 130, PWD (R&B) – 4031, PWD – (Housing) – 1,006).
Chief Minister, Neiphiu Rio replying to MLA, KeneizhakhoNakhro, informed that the strength of staff of Task Force for Music and Arts is 8 (Eight): Project Director- 1 (Deputation), Sound & Light Engineer- 1 (Contract), Manager (Electronics & Power)- 1(Contract), Handyman cum Peon- 1 (Regular), Sweeper cum chowkidar- 1(Regular) and Contingency- 3.
MLA, Y.M. Yollow raised unstarred questions on the Assam-Nagaland border &Ladigarh polling station, to which the Minister in-charge of Border Affairs informed that the Assam-Nagaland Border issue is sub-judice in the Supreme Court of India and the State of Nagaland is defending the suit in all possible manners. Further, whenever the situation so warrants, meetings are held between Assam and Nagaland counterparts at various levels. The Minister in-charge informed that the Assam-Nagaland inter-state border are as follows: Mon – 63 Km, Longleng – 9 Km, Mokokchung – 100 Km, Wokha – 117 Km,Kohima – 3 Km, Dimapur – 125 Km and Peren – 96 Km Approx. He stated that Post 1972 Agreement, Doyang&Kakadanga Reserve Forest under Wokha district has the largest area encroached by Assam. Further, he informed that in the elections conducted, the electors of the Ladigarh Polling Station under 49 A/C Tamlu, are voting at a nearby makeshift camp approximately 1 km away from the school between Ladigarh and Yonglok village as per the directives of the Election Commission of India. He said that Ladigarh village is shown under Assam territory in the map in the website as per the Survey of India map that follows the 1925 boundary line, which is disputed by the State Government.