Girl sexually assaulted by her own father died at RIMS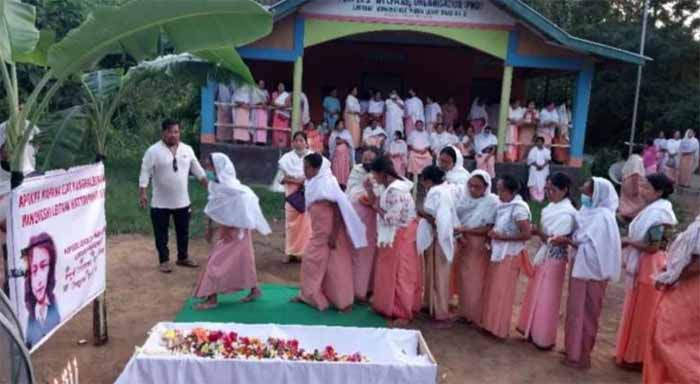 A 15 years old rape victim by her own father died at RIMS on Sunday night at around 10.30 pm after battling for her life for some days. Her last rites was held at Thoubal Wangmataba by the locals after offering due respect to the departed soul.
A man who hails from Thoubal Wangmataba allegedly raped his own daughter on several occasions sending shock waves across the State. The rape victim was undergoing treatment in critical condition at the hospital after she consumed poison on July 31 last. Source said that the victim died due to renal failure.
The Woman Police Station of Thoubal arrested the accused on August 4 under POCSO Act, 2012 based on a complaint filed by Childline Thoubal and later sent to jail. The accused is a driver of Manipur Police Department but put under suspension after the incident.
Source said that the victim girl once stayed at her mother's house after her parents got divorced. However, she was compelled to stay with her father after her father filed a case in the court in 2014. Her mother got married to another man while her father too married to another woman. Being unable to tolerate intense domestic violence, the second wife too stayed at her maternal home for a long time but came back only recently.
According to Childline Thoubal officials, one unknown person called up Childline no.1098 complaining that one girl had been hospitalized after consuming poison. The team rushed to the spot and took the statement of the victim. The victim revealed that her father raped her since 2016 under duress and intimidation.
The girl had narrated the shocking ordeal to her grandmother and her close friends. She wrote about such incidents even in her diary. Her father discontinued sexual harassment when one aunt of the girl stayed at the house in 2020 but continued meting out physical and mental harassment.
The victim father refused when she made a request to her father that she would like to stay in the boarding school like her friends recently. Unable to bear the mental trauma, she attempted to commit suicide by consuming pesticide on July 31 evening at about 5.30 PM.
She was first rushed to a doctor in the locality but with her health condition deteriorating, locals evacuated her to JNIMS on August 3. She was then referred to SHIJA Hospital and then to RIMS.
Meanwhile, members of Womens in Governance Thoubal Chapter and Childline Thoubal have condoled the demise of the victim girl.
Meanwhile, WiNG Thoubal functionary Oinam Thoibi has demanded the government to deliver justice to the decease victim. She also demanded rigorous punishment against the rapist.
Source: TMB