District Task Force Kohima visits Don Bosco School Zubza for Setting-up Covid-19 Care Centre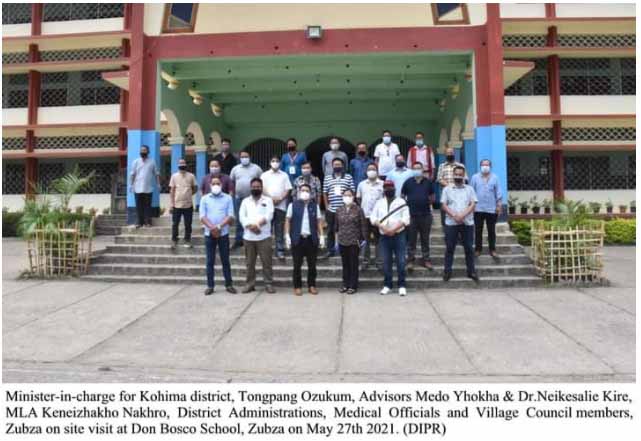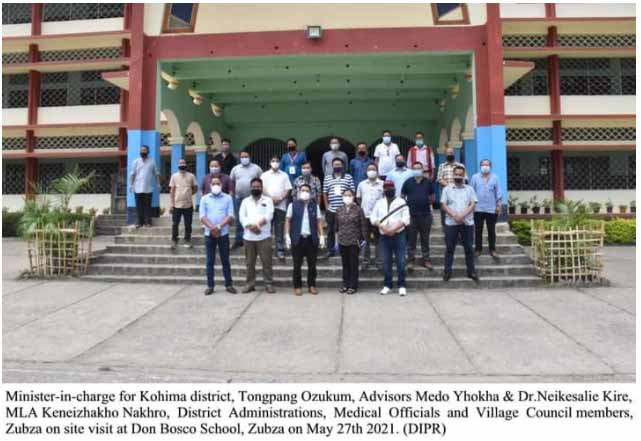 Kohima, 27th May 2021 (DIPR): The District Task Force, DTF Kohima comprising of Minister-in-charge for Kohima district, Minister, PWD (Housing and Mechanical), Tongpang Ozukum; Advisor, Urban Development and Municipal Areas, Dr. Neikiesalie Kire; Advisor, Technical Education and Election, Medo Yhokha; MLA Keneizhakho Nakhro, District Administrations, Medical Officials, Western Angami Public Organisation (WAPO) and Village Council members Zubza visited Don Bosco School Zubza for setting-up Covid-19 Care Centre on May 27th 2021.
The DTF members profoundly thanked the Rector & Parish Priest, Sechu Zubza, Fr. Nellisseril Joseph and his team for unconditionally offering the Don Bosco School, Zubza for setting up a COVID-19 facility centre for the people of Western Angami and assured all preparatory arrangement to be completed soon.
The DTF also appreciated that the facilities at the school were well furnished and equipped with all the basic amenities. The converted facility centre has two blocks in floors and will be initially accommodating 40 beds (20 for men & 20 for women) which can be increased to 50 beds, if necessary and in addition the Government High School Zubza will also be converted into facility quarantine for the doctors and Front line workers.
The members also appealed to the people of Western Angami area to come together in prayer as well as in deeds to confront the common fight and led by examples by following all the SOPs.
It has also been informed that the quarantine facility for the doctors and FLWs who will be attending duty at the Don Bosco School, Sechu Zubza COVID-19 care centre, the Angami Catholic Women Association have permitted the doctors and FLWs to use their Guest house, which is located just below the SDO Civil office.