Nagaland : 4 August 2020

The situation in Nagaland is alarming specially in Dimapur as the positive cases increasing continuously for the past 3 days. Out of 276 news case detected today, 187 from Dimapur alone and 89 from Mon.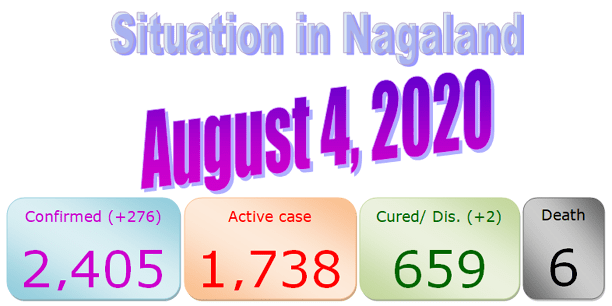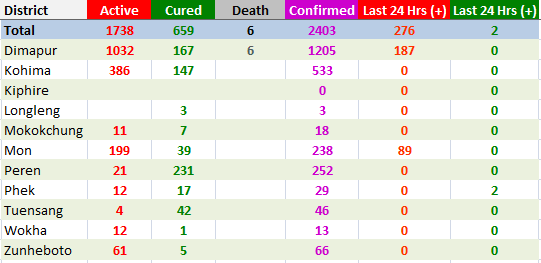 According to Nagaland Post, out of 2405 positive cases in Nagaland as on Aug 4, 2020
1019 are from armed forces
1031 are returnees
167 are the frontline workers
155 are traced contacts and
33 others
There are 1,736 active cases as asymptomatic, 1 mild, 1 admitted to ICU on oxygen. According to Health department's August 4 'status update', 214 cases were detected from among the armed forces (171 in Dimapur and 43 in Mon) while 52 were returnees, 5 frontline workers and 5 traced contacts.
Out of the 2,405 positive cases, the distribution across various categories of people are- 1,019 cases from Armed Forces/Paramilitary, 1,031 cases from Returnees, 167 cases from Frontline Workers, 155 cases are traced contacts, and 33 'others' which includes cases related to NLA, Raj Bhavan, patients excluding returnees.
According to Health department data, Dimapur district remained on the top, with 1104 cases, followed by Kohima- 462, Peren- 331, Mon- 263, Zunheboto- 68, Tuensang- 51, Phek- 30, Wokha- 23, Mokokchung- 18, Longleng- 5, Kiphire- 4 and others- 46.
Most of the recovered people are from the Peren district where 231 people got well. So far, 167 people recovered in Dimpaur and 147 in Kohima.