Nagaland COVID-19 update : 25 December 2020


Nagaland registered 5 new fresh case today taking the state tally of confirmed cases to 11,895. Meanwhile, 36 patients were discharged.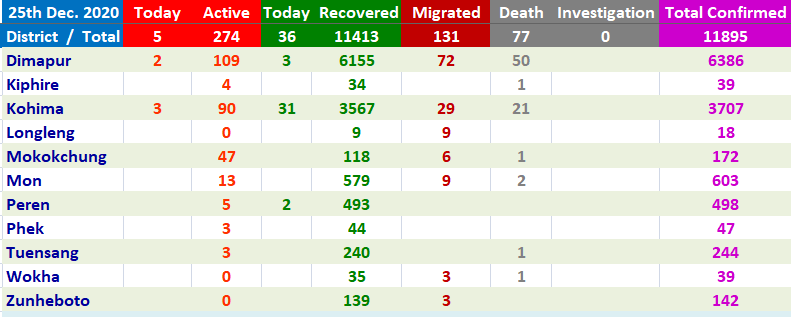 State Health and Family Welfare Minister S Pangnyu Phom in a tweet said 3 cases were detected in Kohima and two in Dimapur. He also informed that 36 positive patients have recovered during the day – Kohima 31, Dimapur 3 and Peren 2.
With this, a total of 11,413 infected persons have recovered so far, taking the recovery rate to 95.94 percent which is above the National COVID-19 recovery rate of 95.75 percent. Currently, the state has 274 active patients.
Altogether 77 COVID-19 infected patients have died in the State, out of which 10 had comorbid conditions. A total of 131 persons have migrated to other States.