Manipur : 8 August 2020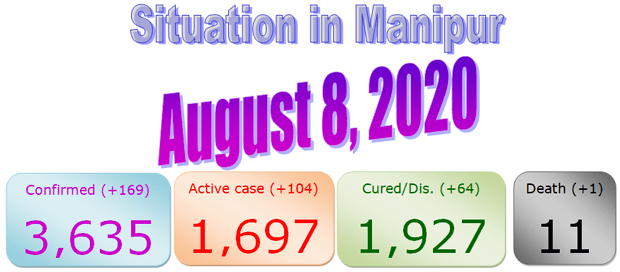 169 new positive cases were detected today including 71 with no history of travelling outside the State with 64 cured/ discharged and one death. This added 765 people who infected by COVID-19 through local transmission in the state. The death was a 63 year old COVID-19 positive man died at JNIMS raising the death toll to 11.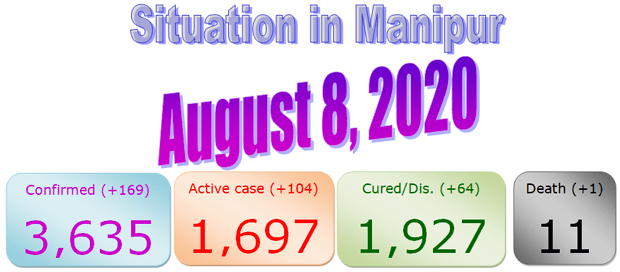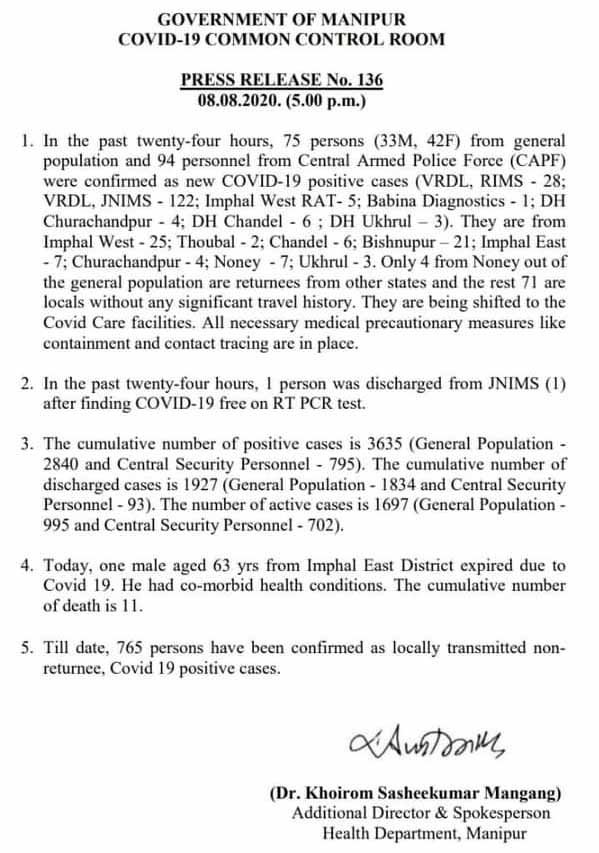 According to a press release issued by Additional Director (Health) and COVID-19 Common Control Room spokesman Dr Khoirom Sasheekumar Mangang, 765 people who have no history of travelling outside the State have been infected by the highly contagious virus through local transmission so far.
Altogether 169 people including 94 personnel of CAPF were tested positive at RIMS, JNIMS, Imphal West RAT, Babina Diagnostic Centre, Churachandpur DH, Chandel DH and Ukhrul DH during the last 24 hours.
Of the 75 civilians tested positive during the last 24 hours, 25 belong to Imphal West, two to Thoubal, six to Chandel, 21 to Bishnupur, seven to Imphal East, four to Churachandpur, seven to Noney and three to Ukhrul.
Except for four people from Noney, the others have no history of travelling outside the State.
Meanwhile, the State's total tally of COVID-19 positive cases has reached 3635 today (general public 2840), Central security forces 795) including 1697 active cases (general public 995, Central security forces 702) and 1927 recovered cases (general public 1834, Central security personnel 93).