Tamenglong gets new smart class coaching institute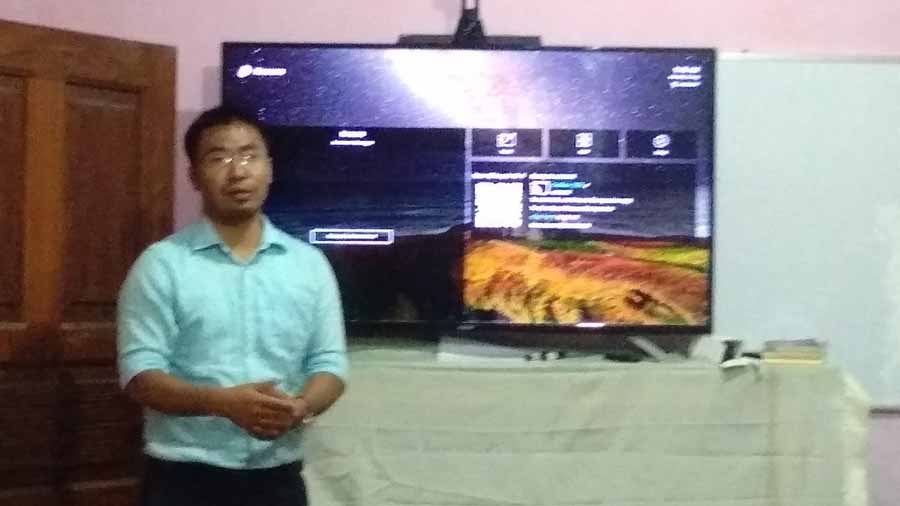 TAMENGLONG, Aug. 31: With an aims to bridge the gap of the learning process between the school in Tamenglong and other advanced cities, Upgrade Coaching Institute, Tamenglong was launched on Monday at Namlalong Tamenglong ward No. II.
Deputy Commissioner Tamenglong Armstrong Pame graced as chief guest of the launching and Prayer dedication programme on the introduction of smart interactive teaching system in Tamenglong district headquarters.
In his chief guest speech, Armstrong Pame appreciated the initiative of the Upgrade Coaching Institute adding that there are many advantages considering good weather climate.
He informed that there more than 100 people coming to for financial assistance for taking tuition outside the district.
"It will be good if all the students can consolidate into Upgrade Coaching Institute. Like other state the government supporting the tuition for IAS aspirants, the district administration can do it", Pame said.
He also said that the district is lagging behind in the field of education sector. Zeliangrong people are scared of science mathematics subject as elder used to say "Science and mathematics are very tough subjects".
"This belief is stuck up in the brain, Upgrade Coaching Institute Tamenglong should break this barriers and hopes that science and mathematics subjects may boost up in the district", Pame said.
Zeliangrong Baptist Church Tamenglong Pastor Rev. Thuanjinang Pamei pronounced the dedication prayer. Medical Officer ADC Tamenglong and Healing Minister Director Dr Lunepou and Namlalong Ward No II Chairman Namrijinang Daimei were among dignitaries attending the launching programme.
Speaking to the mammoth gathering, Upgrade Coaching Institute Tamenglong Director Khangjuaklung Riamei said that the Upgrade Coaching institute is to provide grounded learning house to serious students with affordable fee and also to bridge.
Upgrade Coaching Institute, Tamenglong is a private coaching house with a smartclass room Solutions will be of intensive Coaching in science and mathematics subjects for classes VIII -XII and will be based on school curriculum of both central and state boards, he added.
For the first time in the history of Tamenglong smart teaching aid and Solutions for a better in-class experience and activity was launched today for a better understanding of concepts of the subjects.
Adding that for a much better instructional tools by using graphics display, illustration through audio-visual tools, simplify but more effective teaching means.
Upgrade Coaching Institute Tamenglong has classes in small number of students and it will split batches adhering to social distancing, wearing of mask, frequent washing of hands will be started in September 2020 provided if there is no report of new cases in the coming days, he said.